Tall Women's Clothing
It's time to update your wardrobe with tall women's clothing that fits! Get rid of those high-water pants, those wrist-baring long-sleeve shirts, and those too-short dresses once and for all. Finding clothes to fit your gorgeous height is a problem no longer.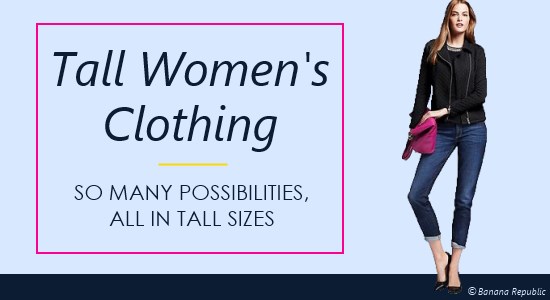 You can create outfit after outfit by shopping for ladies tall clothing online. Did you catch that major keyword there? Online! Except for the rare instances, we leggy gals, unfortunately, don't have the luxury of running out to the mall to buy our clothes (oh well, who needs to waste gas and stand in long lines anyway?). We do, however, have the convenience of shopping on the wonderful World Wide Web. Yeah, maybe we have to fork over a few dollars for shipping, but if it wasn't for the Internet, we likely wouldn't have our tall clothing sizes in the first place.  So, let's look at the glass half full, right?  We've got tons of fabulous options!

Check out all the possibilities by searching through the categories below. What you'll find on each of these pages are, first, some recommendations that make for quick and easy shopping and, second, a directory of stores that offer the particular type of apparel the page is focused on. Yes, it was hard work to go through all of the stores selling tall women's clothing and research exactly who sells what, but I thought it would be the best way to help you find what you need. I hope you think it does. So, get after it! Your closet can be filled with clothes that fit just like they're supposed to. Imagine that, girls!

Denim
One of the most essential pieces of your wardrobe...JEANS!  And, wouldn't you know, they can be found in a range of long length inseams to suit your height.  I've categorized the tall denim section by inseam, starting at 34" and going all the way up to 40".  Just click on the 'Jeans' button below.  Or, check out some of the specific styles that are trending these days.

Pants & Bottoms

Pants for taller ladies come in an assortment of fashions. Whether you're looking for casual, dressy, or active, you can be sure to find them in a long length. Again, I've categorized the pants section by inseam, from 34" to 40". Click the 'Pants' button for these. Other types of bottoms that come in tall sizes include capris and shorts.

Tops
Great-fitting tops are a must in a tall women's clothing closet. And, whatever look you're going for – casual, dressy, trendy, comfortable – you're sure to find it in the longer lengths and proportions you need.

Dressy
Looking to dress it up a bit? Dresses and skirts, whether casual or formal, come in the right measurements that will keep them from becoming mini's (unless that's what you're going for because they come in tall sizes, too...did you know that?!). For a professional look, go with businesswear that will give you a touch of class.

Coats
The jackets you'll see in this section come with, you guessed it, longer sleeves and length proportions to fit a long torso upper body. Stay covered and warm in blazers, trench coats, cardigans, and plenty of other stylish designs.

Activewear
Find comfort and versatility in the active fashions I've categorized for you here.  Whether you simply want to hit the gym for a heart-pumping workout or be more adventurous in the outdoors, make sure you pick up proper-fitting exercise tops and pants to wear.

Sleepwear
It's a nice thing to have sleepwear that fits to help you get a good night's rest.  The tall pajamas, nightgowns, loungewear, and robes you'll find in my sleepwear section are made in comfy fabrics and in longer proportions that you'll love to snuggle in to.

Swimwear
Having a longer torso than most often poses a challenge when shopping for a swimsuit.  But, you do have options that maybe you didn't know about.  You'll get good coverage from the tall one-piece and tankini swim styles on these pages.  You don't need a special long torso size for bikinis, but I thought I'd throw out a few options for fun.

Other
And, to round out the tall women's clothing categories...

Contests & Sweepstakes

From time to time, I hold contests and sweepstakes for my visitors with prizes from some of my favorite tall clothing retailers.
Stay in touch through my TALLegram newsletter or through my Facebook page to see when the next one will be!

---
---
Like This Page?

Your Comments!