$100 Alloy Apparel End of Summer Sweepstakes
THIS SWEEPSTAKES IS NOW CLOSED.  Thank you to all who participated!  I enjoyed hearing what you would love to try at Alloy Apparel.  The winner, Dorian A., will receive a $100 gift card to use toward the 35" inseam pants and jeans she is looking for.  Congratulations!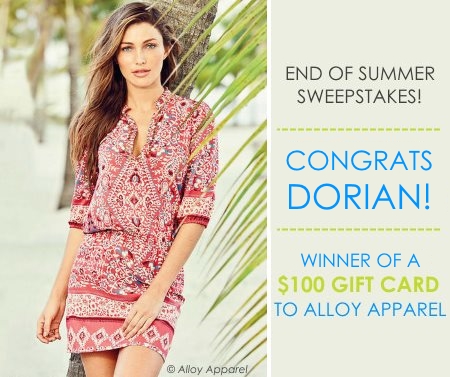 *Support TWR by using the links on this page to shop.  When you purchase, I receive a small commission (at no extra cost to you).  In this way, I can keep bringing you free, helpful, TALL content.  Thank you!*

For those who didn't win this time, don't fret!  I'll have more tall clothing sweepstakes in the future.  If you haven't already, feel free to sign up for my newsletter or follow Tall Women Resource on Facebook or Pinterest so you don't miss out on the next one!
---
It's been a whirlwind of summer fun for me.  Daily pool outings, fruity drinks on the patio, playdates with friends, ice cream cones, and a very much-welcomed beach vacation.  But, it's August now and things are slowly winding down.  As I start saying my goodbyes to the summer, I'm getting excited for the next season.  New fall fashions have begun to pop up and I see many things to love!

Alloy Apparel is one of the first tall retailers I turn to when one season is ending and a new season rolls in.  A little search through their Tall Shop and I see summer sale items sitting next to new fall trends all at reasonable prices.  What are some of their tall pieces that I'd love to try?  Here are a few of many…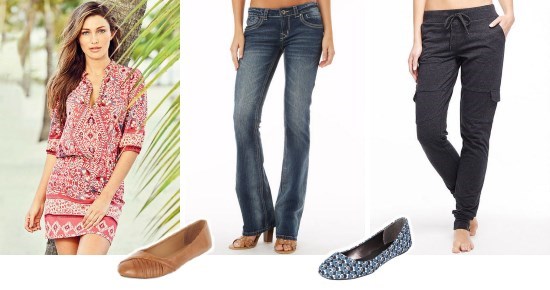 These products are now no longer available.
Find similar styles at Alloy Apparel.
Now, here's the really fun part...
To celebrate the end of summer, Alloy is giving one lucky Tall Women Resource visitor a $100 gift card to purchase some new beloved finds, be it a summer piece or fresh fall style!
Entering the sweepstakes is easy. Simply leave a comment in the form below telling me which item(s) from Alloy Apparel
you would love to try. Then, on the next page, you will confirm your entry submission. And, that's it!
Entries must be posted by 11:59 P.M. CST on September 11th.  One winner will be chosen at random and announced the next day.  Good luck!

To Make Your Entry Post:

The entry form is now closed.
Sweepstakes Submissions

Mar says:
The French Terry Boyfriend pant! I can never find a pair of comfy warm pants to relax in that are long enough but these look great. They're a reasonable price too!
Becky says:
Looks like some great denim!  Show me the jeans!  :)
Dorian says:
Any pants or jeans that are long enough for 35" inseam!! Thanks!
Apryl says:
London super stretch skinny jeans. My inseam is 37 and have heard this is the place to buy long jeans.
Heather says:
Larissa Flutter Sleeve Top blue and Core Active Wear Boot cut black pants
Sarah says:
I would love to try lots of what I saw, but I think I'd start with a dress.  I can't remember ever being able to buy a dress that was actually made for someone with my torso.  Plus, I really like that you have plus sizes.  I'm not only tall, I'm built like a linebacker.  Even when I was skinny I was still considered plus sized.
Stefanie says:
I would love some of their new maxi dresses, 39" jeans, and 37" pants.
Barbara says:
A dress. A decent dress for a wedding, church or dinner out.
Andrea says:
I'd love to try the Abbie Maxi dress! It would be so nice to have a maxi dress actually be long enough for me at 6'2!
Amanda says:
I'm in love with the grey ribbed Gisele side split dress. Gorgeous!
Somre says:
I just saw in their catalog that they have coats in talls! I would love to try one of the Steve Madden ones! Or I love their extra length dresses as well!
Susan says:
I would love to buy any of the tall pants/jeans and maybe a new top as well. It's so hard to find anything long enough for me.
Christy says:
Twill essential boot cut pant. Tall 35" inseam.
Melody says:
Olivia printed embellished dress
Nichole says:
I would love to try the Olivia printed embellished dress! It's hard to find cute short dresses that cover my booty!
Susan says:
Tall peasant blouse
Lukeshia says:
Digital floral print ponte knit dress is gorgeous and would love to rock this item!!
Kelly says:
I would love to try the tall jeans and actually the entire tall line.
Alice says:
I have lost some weight so I need a really nice pair of skinny jeans.
Chris says:
Love tall fashions.
Maren says:
Nina printed ballet flats are cute
Donna says:
Yes a new wardrobe for the new school year will keep me in the latest fashion. I LOVE the maxi skirts!
Shirl says:
I'd love to try some bootcut jeans, and that peasant top.  I also like that patterned hooded cardigan.
Jill says:
Your jeans
Angelica says:
I would like to try the Spoon Motto Jegging.
Bonita says:
They are long enough for..
Mari says:
I'd like to try their end-of-summer / beginning-of-fall dresses.
Carol says:

Abby Elbow Sleeve Scoop Maxi Dress.  It's the dress up, dress down anytime dress!
Katy says:
Joplin Zipper Pant
Joan says:
French Terry Boyfriend Pant - I like the way the legs are cut - a relaxed fit

Monica says:
I would like to try the Paris Color Skinny Pant Jeans to look relaxed and colorful at work.
Mary Jo says:
Would love to try the dress pictured if it is available in an 8. So glad I just found your site.
Linda says:
Olivia Printed Embellished Dress. It's beautiful!
Judith says:
Great pants of all kinds!  Love the long inseams!
Sherry says:
Amber (blue) or Olivia (black/white) print dress I can wear either as a tunic top for dress over pants style.
Regina says:
Everything! Jeans,dresses,coats tops!
Donna says:
I would love to try their jeans.  I am tall and need the length.
Nancy says:
The olivia printed dress-cute!
Donita says:
There are several items that I would love to have for the fall. I have purchased before and see some things in your catalog that I want now.
Jenilee says:
I would love to try on the Giselle side slit dress and the Steve Madden Princess funnel coat in camel and the Marilyn sweater dress. The Heidi ribbed maxi is something I would love to try on as well!
Katie says:
Zoe Angel sleeve dress...heck, ALL the dresses!
Cindi says:
The twill essential boot cut.  I've always wanted a pair but have never found any that fit me!
Sue says:
I would love to try any pants or jeans.  Us tall women need options.
Joanne says:
I LOVE the ballet flats that actually come in my size! I want one of each!
Heather says:
Would love to try the Charlotte Striped Maxi dress, Rocker Bootcut Jean, Larissa flutter sleeve top, scoopneck thumbhole tee, and many more.
Rebecca says:
Stitch pocket boot cut Jean.
Ranee says:
I love your long pants!
Katie says:
I would love to grab the new Ricki boot in black and brown!  It's hard to find cute boots that are the right size!
Bonnie says:
I would love to have the Faux Fur Cascade coat.
Rose says:
Fleece Porkchop Pocket Boyfriend Pant
Andrea says:
I would love to try any pants with an inseam of 36"!
Mary says:
The French Terry Cargo Pocket Jogger
Maria Teresa says:
I am looking for white jeggings with boot cut.  You used to carry a line called "revolt" and the jeggings were fantastic.  Now I cannot see them.
Diane says:
a short dress with a tall bodus... like those cute junior dresses my niece can wear.
Racquel says:
I'd like to try the French Terry jogger!  You have them in my LENGTH!!  That's very hard to find!
Melanie says:
Looks like some clothing
Molly says:
I'd love to try the rocker stitch and denim trousers!
Carol Ann says:
Charlotte Embroidered Peasant Blouse.  Love it!
Monica says:
I would like to try the Corduroy Skinny Pant.
Laquetta says:
I would like to try on a jumpsuit.
Kirstie says:
I really really want a pair of PJ's with long enough trousers rather than looking had row with my ankles.

---
---
Like This Page?

Your Comments!