Tall Maternity Clothes
While nine months of pregnancy should be a thrilling time for any woman, shopping for tall maternity clothes can often put a drag on all the excitement. Finding regular clothing can be hard enough, but add in a growing belly and an ever-changing pregnant body and you've got yourself quite a challenge. Until now.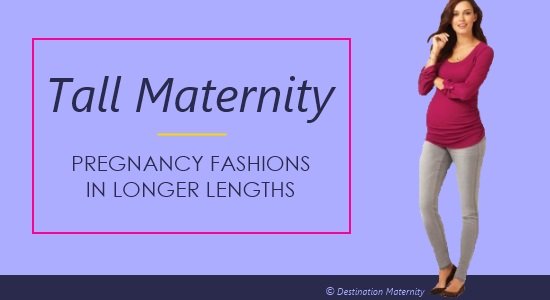 *Support TWR by using the links on this page to shop.  When you purchase, I receive a small commission (at no extra cost to you).  In this way, I can keep bringing you free, helpful, TALL content.  Thank you!*

If perfect-fitting tall size maternity clothes are what you crave (outside of pickles, chocolate, and ice cream), my directory of tall maternity stores and products will help satisfy. Most of the stores you'll come across on these pages only offer jeans and pants in longer lengths, but there are a few select specialty maternity shops that carry tops as well.  Become a stylish mom-to-be in fashions that fit and flatter.

Choose a Tall Maternity Clothing Category:

Tall Maternity Jeans – Here you'll find trendy, tall maternity jeans in the long inseam sizes you need. If you're into popular brands, you'll find tall designer maternity jeans as well. Choose from no panel, back panel, demi panel, and full panel waist bands for a great fit.
Options for Tall Maternity Pants and Jeans – You have a variety of alternatives when it comes to finding extra long pants and jeans to wear during pregnancy.
Store Directory: Maternity Clothes for Tall Women – The stores on this list offer a nice selection of tall maternity clothes. You'll find a variety of jeans and pants with stretch panels and elastic waistbands in longer inseams as well as tops and other pregnancy fashions.
Bella Band Maternity Clothing Accessory – Worn around the waist, these stretchy bands of fabric are designed to cover a growing midsection, hide unbuttoned jeans, support the belly, and adapt to the continuously changing pregnant body.
B-Buckles Maternity Clothing Accessory – These stretchy pant extenders are a stylish and practical way to hide an unbuttoned waistband. As your belly expands, your pants can, too.


More tall clothing to discover:
---
---
Like This Page?

Your Comments!