Tall Women Resource Blog
The Tall Women Resource Blog keeps you up-to-date with what's going on in the world of TALL, including...
Site Updates - I am constantly adding new tall categories, stores, products, and articles. I'll let you know about all the additions and updates going on around here so you won't miss out.
Coupons, Promotions, and Discounts – I'll tell you in real-time about current specials and promotions that you can find at some of your favorite tall retailers. Never miss out on a good deal!
Tall News and Events – Stay informed with all the happenings and going-ons in the tall community.
Tall Fashion Trends – The fashion world is forever changing. Let me help you keep up with all the latest and greatest styles.
Subscribe to this blog using RSS:
For an easy way to keep track of new posts without having to check back each week, simply subscribe to my blog (no e-mail necessary). To do this, hover over the little orange box next to "What's New" at the bottom of the left column of this page. From there, right-click on the orange RSS button, copy the shortcut, and then paste the URL into your RSS reader. Or, click on the My Yahoo! button, My MSN button, or any of the other RSS reader options if you prefer to read the blog updates there.
---
Deal Alert at Alloy!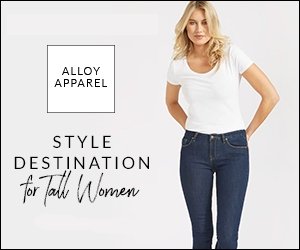 Today only, March 25th, you will get FREE SHIPPING on all orders at Alloy Apparel! They have some new items out for spring, so today's the day to check them out! To visit Alloy's tall collection click here
.
Like This Page?

Your Comments!