Women's Tall Activewear
It's hard to exercise in clothing that doesn't fit. That's why women's tall activewear is so important. And, there's plenty to choose from. You will find ladies tall yoga pants, sweatpants, active tops, leggings, and other exercise clothing all in longer proportions to fit your height.
These looks are also perfect to take on the current athleisure fashion trend.  As a stay-at-home mom, it's my ultimate favorite.  I can hit the gym and then hit the town, running errands and getting things done, all the while feeling comfortable in what I'm wearing.  I love it!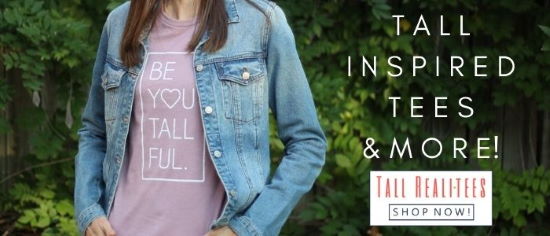 *Support TWR by using the links on this page to shop.  When you purchase, I receive a small commission (at no extra cost to you).  In this way, I can keep bringing you free, helpful, TALL content.  Thank you!*

Favorite Styles:

Favorite Women's Tall Activewear Stores:

Athleta ($$) This athletic clothing retailer will give you the most options when it comes to women's tall activewear. You'll find yoga pants, running pants, leggings, and tights in long inseams as well as tall workout tops, tanks, sweatshirts, and sometimes dresses and jackets. If you tall need ski pants, I'd check here first. Their choices for tall swimwear are also excellent. It's a good one-stop shop for your activewear. Added bonus...you get free shipping on orders over $50 plus free returns!
Old Navy ($) A great place for inexpensive women's tall activewear. Pretty much everything is under $50. You will find a wide variety of exercise tops and jackets as well as tons of options for workout leggings. They have a few choices in tall yoga pants, too. I own quite a few pieces from the Old Navy active collection and love them. You get free shipping on orders over $50 plus free returns through the mail or at any of their many retail locations.
Zappos
($$) Here you can find a number of active and leisure style pants in 34" to 36" inseams. In the women's pants section, click on the inseam you're looking for to make it easy to shop. They also offer a great selection of large size athletic shoes. Take advantage of free shipping and free returns which make it super simple to just try things out!
Eddie Bauer ($$) Known for their casual and outdoorsy styles, here you can get your fix of clothing for an active lifestyle which includes hiking, training, skiing, and travel. They have a variety of long inseam pants and shorts and an even wider variety of tall outerwear, ranging from lightweight hoodies and parkas to heavy down coats that can keep you active in the super cold. Sizing goes up to 20. Free returns to any Eddie Bauer retail location is a nice perk.
Alloy Apparel
($) Offers inexpensive leisurewear pants in 35" and 37" inseams including a variety of joggers and leggings. Their athletic category isn't the biggest, but you'll find the longest lengths here. Plus, get free shipping on orders over $100!
JCPenney ($) Carries a nice selection of women's tall activewear which includes active tops, sweats, yoga pants, and leggings. Click on the Talls category under Women's apparel to get to their tall clothing section. Free returns to mall locations.
More tall clothing to discover:
---
---
Like This Page?

Your Comments!