Sports Bras For Long Torso Women
Since starting this site, many visitors have written in to ask about the best sports bras for long torso women.  Straps that dig into shoulders and bands that ride up during workouts are the top complaints from tall ladies.  And, I'm right there with them.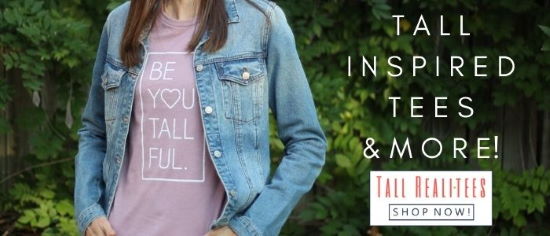 Because the issue seems to be pretty common among us girls blessed with height, I decided to do some digging.  What did I come up with?  Not much, to be honest.  But, there was one line of sports bras that kept coming up in my research.  Enough to make me want to buy a few styles and review them for you.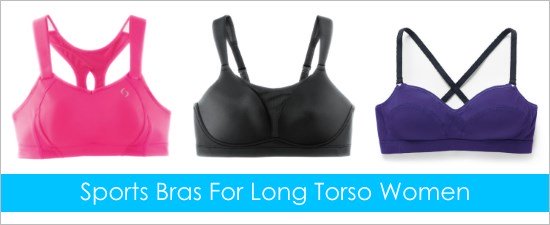 *Support TWR by using the links on this page to shop.  When you purchase, I receive a small commission (at no extra cost to you).  In this way, I can keep bringing you free, helpful, TALL content.  Thank you!*

The brand is Brooks (formerly Moving Comfort) and the styles I took for a test ride are the Juno, the Luna, and the Hot Shot.  While these still aren't going to work for the longest of long torsos out there (fingers crossed tall retailers give us true options soon!), my guess is they will be a great fit for many tall women.  Check out my reviews and see what you think.

For reference, I'm 6'1" and a size 34B.

TALL TIP: You can find some of the sports bras featured on this page at Zappos. It's easy to try products with Free Shipping and Free Returns
!
Brooks Moving Comfort Juno Sports Bra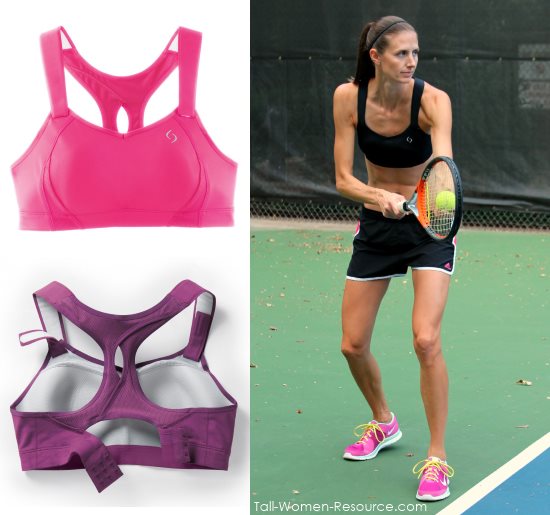 Brooks Moving Comfort Juno Cross Back Adjustable Sports Bra

(current style has been slightly updated)
The Juno is an award-winning sports bra that is favored by a lot of women of various heights. It's a racerback bra with wide, cushioned straps that are front-adjustable using a hook-and-loop velcro design. I let the straps out as far as they could go while still keeping the velcro intact and they are comfortable even with my long torso.
Before buying, I read a lot of reviews saying that this bra is amazing for larger chests and really holds "the girls" in place. Since I'm far from busty, I feel that this bra is a little bulkier than I would normally go for, but it was expected.
The Juno definitely provides a lot of coverage, in the front as well as in the back. And trust me, there is no bouncing whatsoever, making it a great sports bra for medium to high-impact exercises such as anything involving running or jumping. I also like the light padding which prevents those darn "headlights".
My only complaints are that because of the higher coverage, it's a little stiffer than I would prefer, and that I have to do some squirming to get the bra on and off.
All in all, I think the Juno is a really good option for bustier tall women. The adjustability of the straps allows for a few more inches of wiggle room for a long torso and it provides a generous amount of coverage and support.
Brooks' Juno Sports Bra
is available in sizes 32B-40DD.
Brooks Moving Comfort Luna Sports Bra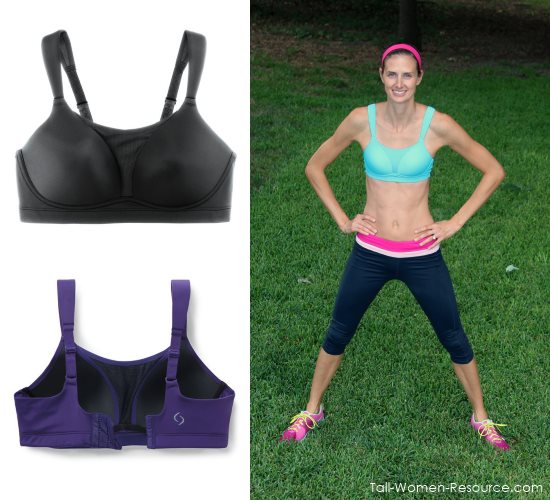 Brooks Moving Comfort Luna Sports Bra
(update: style has been discontinued)
My first thought about the Luna sports bra was that it looks like a regular t-shirt bra, both from the front and from the back. But, that's actually on purpose. It's designed to be worn all day if you want...from work to workout. Even though it resembles a standard bra, it has the feel and support of a sports bra.
Like the Juno, the Luna has wide, adjustable straps...although they adjust in the back. Again, I let the straps out all the way and there is just enough leeway for my longer upper body. I don't feel any pull on my shoulders.
Also like the Juno, this bra was built for no-show coverage and for medium to high-impact activities. With the molded cups, I feel like my chest isn't being subjected to the typical sports bra squish, which is kind of nice. The moderate padding provides some modesty. And, it's easy to put on and take off because of the hook-and-eye closure on the back.
Post update: This style has since been discontinued...boo!
Brooks Moving Comfort Hot Shot Sports Bra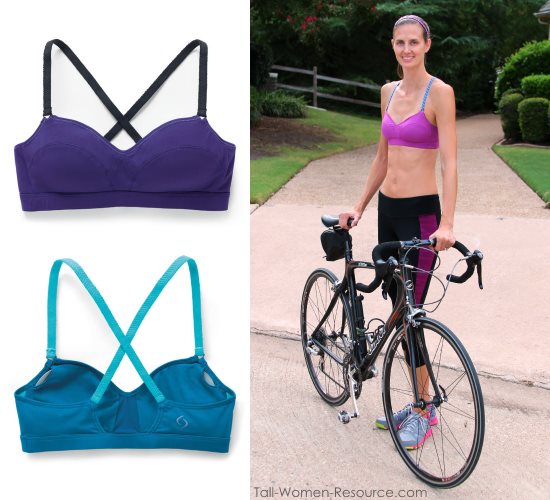 Brooks Moving Comfort Hot Shot Sports Bra
(new colors now available)
When I came across this bra, I thought it looked super comfy, but it didn't have a way to adjust the straps like the Juno and the Luna. As I looked into it a little closer, though, I noticed the description said that the braided straps stretch and self-adjust. Worth a shot, I thought. And after trying it on, I can say that the straps actually do stretch out to fit a taller, longer torso like mine!
I love the back of this bra with its crisscross, open design. It definitely provides less coverage than the two sports bras above, which means more flexibility in range of motion, but on the other hand it only offers support for low to medium-impact activities (walking, yoga, etc). I will also be using this bra for just lounging around the house when I don't feel like wearing a regular bra.
The Hot Shot is made for less-busty chests and best fits those with an A, B, or C cup. It also has removable cups if that's something you like.
My one complaint with this bra is that the curved seams on the front can be seen when wearing a tighter tank top or t-shirt, but that's about it.
Overall, I love the Hot Shot! It's really comfortable for my less-than-busty chest and perfect for lighter activities. The self-adjusting straps are a nice feature and will make it a great sports bra for many long torso women.
Brooks Moving Comfort's Hot Shot Sports Bra is available in sizes Extra Small to Extra Large.
Post Update: Under Armour Eclipse Bra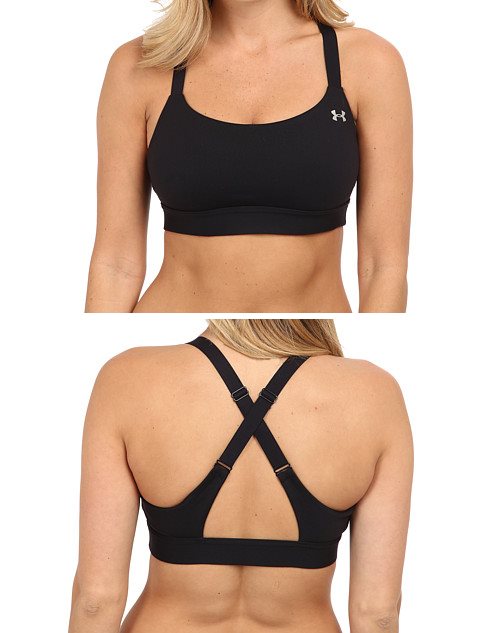 Under Armour Eclipse Bra
Recently, I came across another sports bra that works well for my long torso! When I tried it on, I was so excited! It's not a Brooks Moving Comfort bra, but I wanted to include it here for others to check out.
This beauty is the Under Armour Eclipse Bra. The material is super comfortable, almost silk-like, which is a big plus. The adjustable straps criss-cross in the back and have enough length that I don't even need to let them out the whole way. What?!
The Eclipse is meant for medium impact activities, although I can easily run in it and have enough support. I love the bra cups which are soft but still prevent headlights. And, honestly, I can wear this sports bra all day without feeling the need to get home and take it off right away. This one's a keeper for sure!
Under Armour's Eclipse Bra is available in sizes 32A to 38DD.
Please note: I bought these sports bras myself and the opinions in this review are my own.


More tall clothing to discover:

---
---
Like This Page?

Your Comments!