Women's Tall Sleepwear
Can't sleep a wink because your pajamas don't fit? No worries. You will find women's tall sleepwear in longer proportions right here.  Pajama sets, pajama pants, lingerie nightgowns, sleepshirts...you have lots to choose from and in a range of comfy fabrics such as satin, silk, and cotton. You'll love them so much you won't want to get out of bed in the morning!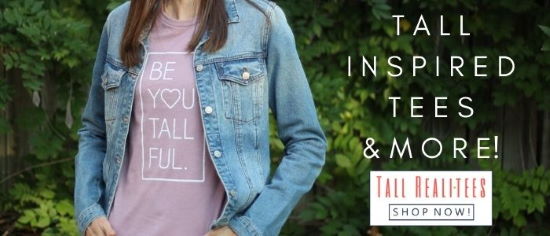 Loungewear, which includes lounge pants, sweatpants, and comfortable tees and tanks, is also a great option for getting a good night's sleep.  What's so nice about loungewear is that you can really stay in them all day if you want.  Wear a pair of sweats and a comfy tee to the grocery store.  Or, enjoy a nice cup of coffee at the shop down the street in some soft cotton pants and a cami.  It's nice to take a break from getting all dolled up every once an while.  And, lounge clothes can look cute in their own right, especially when they fit like they should!

*Support TWR by using the links on this page to shop.  When you purchase, I receive a small commission (at no extra cost to you).  In this way, I can keep bringing you free, helpful, TALL content.  Thank you!*

Favorite Styles:

Favorite Tall Sleepwear Stores:

Eddie Bauer ($$) Their sleepwear line often includes tall pajama pants in a 36" inseam, tank tops, tees, hoodies, and fleece items. The amount of choices available depends on the time of year.
Alloy Apparel
($) They offer a variety of loungewear pants in long inseams, including sweatpants and joggers. If you find some things to love, you'll get free shipping on a $100 purchase in the U.S.!
Old Navy ($) Popular store offering reasonably priced clothing. They have a few lounge pants styles and, at times, actual pj pants. Their tank tops and camis can be used as sleepwear and they come in a wide variety of colors and patterns. You can find sizing up to 20. And, get free shipping on a $50 order plus free returns!
Long Tall Sally ($$) This tall specialty shop often has good nightwear options. They include cute pajama sets, pajama pants, sleep shorts, comfortable tees and tanks, and also robes.
Gap ($$) You can find comfy tees and tanks, sweatshirts, and some lounge-type pants in tall sizes here. Gap offers free shipping on orders over $50 as well as free returns.
Soft Surroundings ($$) This shop is known for the comfortable material used in their clothing. It's a great place to find women's tall sleepwear such as gowns, caftans, and robes.
PJ Pan ($$) This is a sleepwear specialty shop offering a collection of tall women's pajama pants in 34" and 36" inseams and in a variety of colors and patterns. They are based in the U.K. and priced in pounds, but are available to ship to other countries.
Next ($) This company is based in the U.K., but products are available to many countries around the world. They sell a nice selection of tall pajama sets in fun patterns.
More tall clothing to discover:
---
---
Like This Page?

Your Comments!