Tall Dresses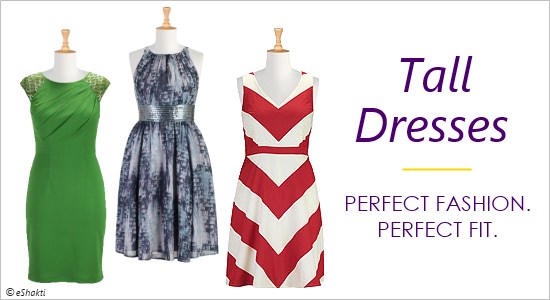 *Support TWR by using the links on this page to shop.  When you purchase, I receive a small commission (at no extra cost to you).  In this way, I can keep bringing you free, helpful, TALL content.  Thank you!*

Tired of your dresses being too short? Relax, girl. The stores below carry an assortment of tall dresses that will fit just right. Choose from a wide variety of dressy styles including knee-length, sleeveless, long-sleeve, professional, sundresses, and maxi dresses. These all come in a fantastic array of colors, fabrics, and fits. No matter what the occasion, you'll find a dress that's perfectly long enough.

TALL TIP: I love Long Tall Sally's huge selection of tall dresses. Check them out and get free shipping on orders of $30 or more
!
Favorite Styles:

Favorite Tall Dresses Stores:

Long Tall Sally
($$) If you want the most options in women's tall dresses, then start here. They have all sorts of styles including floor length maxi dresses, short mini dresses, professional businesswear dresses, summer dresses, little black dresses, formal dresses, and more. Sizing goes up to 20. You also get free shipping on orders over $30!
Gap ($$) This well-known company offers mid-priced ladies dresses in tall sizes. Their collection changes regularly and they are pretty much right on trend. Don't forget about the free shipping over $50 and free returns to stores!
Old Navy ($) This is the place to shop for inexpensive tall dresses. You will find a wide variety of fun, trendy fashions in a number of colors and patterns. They often run promotions and discounts on their clothing so you'll likely get a good deal on top of the reasonable prices. You also get free shipping on $50 and free returns to their stores.
Alloy Apparel
($) You will find some of the latest fashion dresses at a very reasonable price here. Their clothing comes in junior sizing, but I know many adult women still love to shop here because of the lower costs. See their Tall Shop section for all the tall options.
Soft Surroundings ($$) They are known for their casual, comfortable clothing which includes their dresses. You will find a selection of relaxed styles in soft materials in tall sizes.
Soft Surroundings Outlet ($) This is the outlet for Soft Surroundings (above) where the clothing is offered at a discount. The stock is limited, but if they happen to have your size, you'll be getting a good deal.
Ann Taylor ($$) Carries more professional and modern styles of dresses with clean lines and slim silhouettes. Select Tall in the main menu for all of their tall clothing.
Banana Republic ($$) Find both contemporary and professional dresses that you can wear to work and then to a night on the town. Being part of the Gap brand of stores, you will get free shipping on any order over $50 with free returns to retail locations.
Athleta ($$) Offers a line of athletic dresses that can be worn for sports and exercise as well as casual type dresses that are made for lounging. These are comfortable outfits that are easy to throw on for your everyday activities. Free shipping on $50 plus free returns by mail or at a store!
Next ($$) This U.K. based fashion company has a really nice selection of trendy dresses in tall sizes, ranging from casual to professional. You can select USA or another country to change the pricing and language on their site.
Dorothy Perkins ($) Based in the U.K., this shop has a nice collection of women's tall dresses, from casual to formal styles. They ship to many different countries including the U.S.
J. Jill ($$) Carries a nice line of relaxed, casual dresses in a variety of colors and patterns.
Metrostyle ($) Carries a line of lower cost dresses in up to size 20 Tall. Their style is a little more classic and traditional than some of these other companies.
Top Shop ($$) Offers a range of mid-priced trendy dresses geared more toward the younger crowd such as juniors and young women. They are based in the U.K., but you can select your country to change the pricing and delivery destination.
Custom Dresses

If you want a dress that's not only unique, but also fits you perfectly, then you should go custom. You can choose from a wide range of colors, fabrics, styles, lengths, and more to create the exact dress you've been looking for.
eShakti ($$) This will be your best choice in custom dresses. They have a huge selection that you will love which includes not only casual styles but also formal. Plus, they're actually affordable! You can customize according to your body size and shape using your own measurements. You can also tweak the styling based on your preferences such as sleeve length, collar style, and overall length. This is something to definitely try out!
Related Pages:
Skirts
Jumpsuits
Plus Size Dresses
Junior Girl Dresses



---
Home

> Dresses
---
Like This Page?

Your Comments!