Junior Party Dresses For Tall Girls

Make-up, check!  Earrings, check!  Wrist corsage, check!  Fancy dress that fits...hmmm.  Junior party dresses in tall girls sizes can be hard to come by, no doubt.  And, when it comes to special events, you definitely don't want to step out in something that just doesn't fit.  Here you will find options and style tips for the perfect special occasion attire to match your gorgeous height.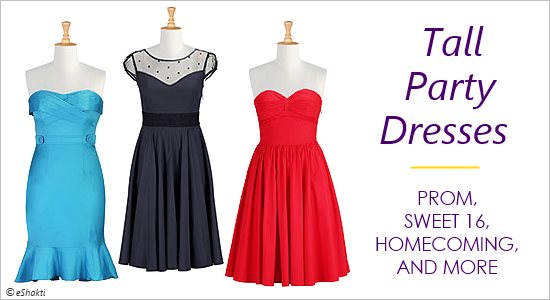 *Support TWR by using the links on this page to shop.  When you purchase, I receive a small commission (at no extra cost to you).  In this way, I can keep bringing you free, helpful, TALL content.  Thank you!*

What exactly do I mean by special occasion?  It's any event that requires you to get all dolled up and looking fancy.  Prom, homecoming, and other high school formals and dances are great examples, as well as sweet 16 parties and banquets.
When I was in high school, I was 6'0", and I definitely had a hard time finding ball gowns in the right length.  When I look back at my prom pictures, I get a good giggle at my "high water"  dresses that were supposed to be floor-length (although, it wasn't really funny at the time).  Fortunately for teens these days, you have some great choices!

Tall Girls Formal Dresses at Alloy Apparel
Alloy Apparel is an inexpensive place to find junior party dresses and jumpsuits for girls. Their dresses aren't super fancy, but for the price, I think that some of the options will work perfectly for most special occasions. Check out the examples below.
Tall Special Occasion Dresses at eShakti

eShakti is one of the best online sources for tall girl formal junior dresses. They have a huge collection of special event clothes in a range of styles and colors. While they don't come specifically in tall sizes, each piece is customizable on both fit and style by providing your body measurements and design preferences. Most give you a choice of length (knee down to ankle), sleeve type, and neckline. This will get you the formal look you're going for in just the right size. And, in my opinion, the prices are fairly inexpensive for being custom-made. Definitely one to check out. Just make sure you give yourself plenty of time for customization and delivery before your special event.
Tall Formal Dresses at Wedding Shops

Another possibility for tall girls junior party dresses is to shop at wedding stores.  Yes, I know you're probably a bit too young to get married right now, but stay with me on this one.  Wedding stores, both online and offline, often sell brands of bridesmaid and special occasion gowns which give an option to add extra length.
House of Brides is an example of one of these kinds of online shops.  Once there, try these designers for all kinds of fancy formals with an extra length option: After Six, Alexia Designs, Alfred Sung, Bari Jay, Bill Levkoff, Dessy, Impression, and Jordan Fashions.

How to Choose What to Wear?
Junior Party Dress Tips for Tall Girls
Now that you know you really do have options for junior party dresses, how do you choose what style will look the best on you?  While girls with above average height are able to wear pretty much any design and look fabulous, you need to consider your entire figure when choosing a dress, not just your height.  Shoes and accessories are important, too.  So, enhance your beauty and confidence with the following fashion tips for formal-wear.
Create balance in a taller figure by highlighting the waist and creating an hourglass look. It will break up long lines and make you look proportioned. To do this, choose a gown with a fitted waist or with detail around the waistline such as cinching, beading, trim, or ruffles.


Tall women are able to pull off styles with details such as trims, ribbons, fringes, or other embellishments.


Tiered party dresses give depth and shape to a higher stature.


If your shoulders and hips are about the same width, A-line, empire-cut, and sheath styles will look fabulous.


For tall, skinny girls who are very lanky, you can look fuller with a ball gown style as well as A-line, sheath, and mermaid. Keep it floor length.


If you are small-chested, choose an empire-cut party dress to create the look of a fuller bust.


A dress with patterns, high-contrast colors, and different types of materials help break up length.


Don't shy away from heels. Even small heels will make your long legs look more fabulous than flats.


Strappy shoes, chunky heels, and colored footwear break up the leg and balance out your height. Very pointed stiletto heels, on the other hand, can make your legs look disproportionately long.


Large and bold accessories flatter tall women and add points of interest on the body. Long necklaces wrapped into several strands or those with chunky beads or pendants are great options. Hoop earrings and long dangles are fabulous on the ears.


Carry your necessities in large bags or maxi clutches in a color that contrasts with your dress. If you want patterns, make sure they are bold and large.


Most importantly, walk with confidence and pride! Keep a good posture and attitude and everything else will fall into place. You will surely become the belle of the ball.


More tall clothing to discover:
---
---
Like This Page?

Your Comments!