Tall Plus Size Women's Clothing
Are you looking to flaunt your height and flatter those curves? Then, tall plus size women's clothing is just what you've been searching for. It's true that these fits are hard to come by, and that makes shopping rather frustrating. Who wants to wear pants that are too short, tops that won't cover the stomach, dresses that won't touch the knees, and jeans that are too snug? I don't. And neither do you. So, to help you out, I've brought together all the ladies tall plus size clothing stores we could find online and put them in a handy, little resource right here. Use it as your ultimate shopping companion.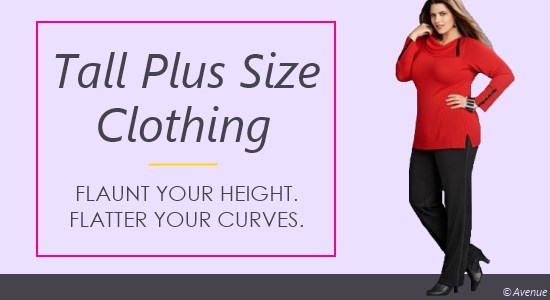 *Support TWR by using the links on this page to shop.  When you purchase, I receive a small commission (at no extra cost to you).  In this way, I can keep bringing you free, helpful, TALL content.  Thank you!*

Choose any of the big and tall women clothing categories below and you'll find a large variety of fashions in a wide range of tall plus sizes. All the essentials for every part of your day are covered. Go casual in a favorite pair of long inseam blue jeans with a basic tee or tank. Make it professional in a tall size long-sleeve button up or sweater with a pair of dressy pants. Take a dip at the pool in a long torso, plus size swimsuit. Or glam it up in a fabulous long length formal dress. Any occasion calls for a great look in clothes that compliment your body height and shape. Time to fill up that closet with clothing that finally fits!
Tall Plus Size Women's Clothing Categories

Plus Size Tall Jeans - In larger sizes and long inseams, tall women will love the big selection of jeans in tall plus sizes. With all of the different cuts, styles, washes, rises, and fits, you're sure to find a new favorite pair.
Tall Plus Size Pants - Ladies pants are an important part of your wardrobe. Everyone needs a variety of dressy, casual, and active pants that fit into their lifestyle and, no doubt, you have plenty to choose from...big and tall dress pants, activewear pants, khakis, capris, leggings, and more.
Tall Plus Size T-Shirts & Tanks - When it comes to comfort and versatility, tall plus size tee shirts and plus size tanks are the way to go. Whether worn alone or as a layering piece, you will find many uses for these basics. That's why you never can have enough. And, with the huge variety of colors and styles out there, it won't be long till you have a large stash on your hands.
Tall Women's Plus Size Dresses - Whether you're going formal or casual, flirty or modest, floor length or knee length, a perfect fitting dress will make you feel beautiful both inside and out. Shop from an array of fabulous colors, patterns, and designs in the tall plus sizes you need.
Tall Women's Plus Size Swimwear - Shopping for a swimsuit doesn't have to be a challenge. Long torso, plus size bathing suits come in a range of bold colors, striking patterns, and glamorous designs meant to accentuate your body. They are hip and stylish and fashioned in such a way as to flatter any figure.


More tall clothing to discover:
---
---
Like This Page?

Your Comments!