For Tall Women Everywhere...
Your Search Ends Here!
No, really, your search does end here.  Why?  Because, finally, you have come to a comprehensive resource dedicated exclusively to tall women.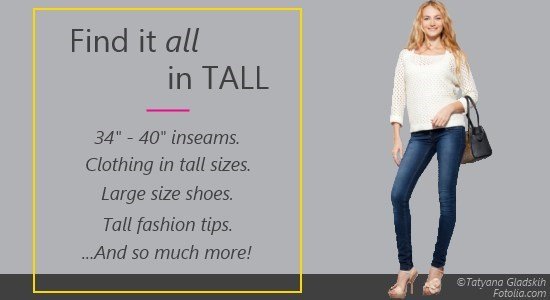 Created by a 6'1" gal who loves being vertically blessed, this website lays out what you having been looking for your whole life and where to find it.  Stick with me and I'll get you covered!
*Support TWR by using the links on this page to shop.  When you purchase, I receive a small commission (at no extra cost to you).  In this way, I can keep bringing you free, helpful, TALL content.  Thank you!*

Bottoms
One of the biggest issues we face as tall women is the need for long inseams.  So, to help, I've categorized the jeans and pants sections by length, from 34" all the way up to 40" inseams.  Skirts are, also, found in longer lengths (no more mini's!).  And, for the big finale at your feet...large size shoes!
Tops
Tops need to be, well, longer.  They, also, need to be manufactured in certain proportions to work for a long torso, from the sleeves to the armpits to the chest to the body shape.  Below are some of the categories I've created to help with your search for tall tops.
And, Those That Are Both
What are some of the other types of clothing you've been dying to find in tall sizes?  Perhaps, perfect-fitting dresses or activewear or sleepwear would make you a happy girl.  How about businesswear or scrubs, depending on where you work?  Or, long torso swimsuits for a much needed vacation.  I've done the research and got them all here.
These are just some of the categories you'll find on my site.  To check out all the categories, simply start at my All Tall Clothing page.

See?  No more searching...it's all here.
Ok, girls, it's time to get control of your excitement, kick back those long, lovely legs of yours, and breathe a big sigh of relief...your life just got that much easier!

Enjoy!


---
Like This Page?

Your Comments!