Tall Women Pants
If you have long legs, tall women pants are surely a must in your closet. Your everyday look often needs some type of pant whether it's a casual, dress, or active style. But, just where can you find a variety of ladies pants in the long inseams you're looking for?  Let me show you!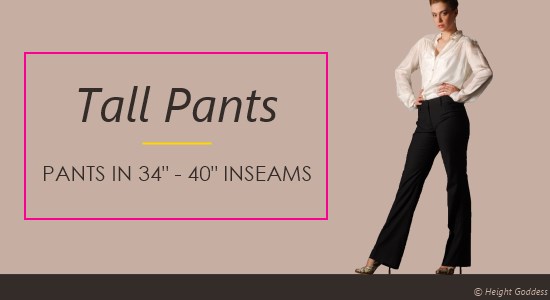 *Support TWR by using the links on this page to shop.  When you purchase, I receive a small commission (at no extra cost to you).  In this way, I can keep bringing you free, helpful, TALL content.  Thank you!*

So, what's a girl to do to get a pair of women's tall pants in the perfect length? First things first, don't waste your time at the mall. That will get you nowhere fast. The simple solution is to go online, where more variety lies ahead than you can imagine.
I really think you'll be amazed by your options.  Take a look at some of my favorite styles below or visit any of the pages in my tall pants section to see what all you will find.

TALL TIP: Alloy Apparel has a nice collection of tall women pants in 35" and 37" inseams. There, you'll get Free Shipping on orders over $75!
Favorite Styles:

Tall Women Pants & Bottoms:

Continue on your search for tall pants for women by choosing one of the categories below (if you're unsure of what your inseam is, see the Inseam Measurement Guide to get an accurate measurement).
Other Ladies Tall Pants:

Custom Pants - How about designing your very own pair of tall women pants? It's the only way to get exactly what you're looking for in style and fit. No matter what your design preferences or body measurements are, custom clothing stores will help give you the perfect pair of long length pants every time.


Pants For Every Occasion

Women's tall pants come in a wide range of styles, designs, and fashions that can be found in a variety of extended lengths. They, also, come in a number of different fits such as boot-cut, flare, and skinny.
Dress pants, including basic black pants, suits pants, and trousers, are very versatile and can go straight from the work day to a night on the town. Casual pants, such as khakis, cords, twill pants, and lounge pants, are for comfortable, everyday wear. Pajama pants are for getting a cozy night's sleep. And, active pants, including workout pants, yoga pants, and sweatpants, are not only for the gym but also for lounging around at home.
You should have at least one pair of pants from each of these styles in your closet. That way you can easily be prepared for any occasion.
Casual, dressy, or active, whatever your current need is you can be sure to find it in long inseams. Browse through these pages and see for yourself. You'll be surprised by the selection and amazed by the unexpected ease of shopping for tall women pants.
Where to start? Shop by Inseam or Pants category.


More tall clothing to discover:
---
---
Like This Page?

Your Comments!