Tall Yoga Pants & Tops

Take a deep breath in, now exhale slowly and relax...because women's tall yoga pants and tops are here! Made in longer inseams and proportions, ladies tall yoga clothing is exactly what you need to get in a good workout.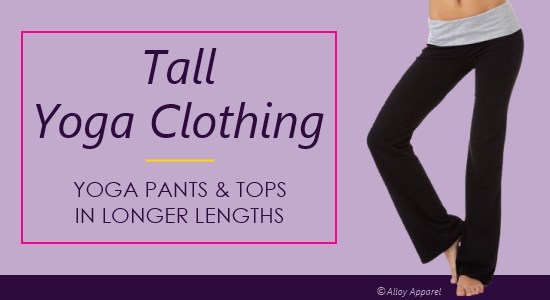 *Support TWR by using the links on this page to shop.  When you purchase, I receive a small commission (at no extra cost to you).  In this way, I can keep bringing you free, helpful, TALL content.  Thank you!*

What kind of yoga clothing styles are available for those deep breathing exercises? First, you have full-length yoga pants which are fitted through the thighs and knees and end in a little bit of a flare at the ankles. Capris have a similar fit, but only fall to mid-calf.
Another style of pant that works great for really any kind of workout is leggings. When it comes to your upper half, the tall yoga tops you will come across have a longer length in the torso, ensuring good coverage. Made of soft, stretchy material and in a variety of colors, women will find both balance and comfort amongst the styles below. Namaste!

Favorite Styles:

Favorite Tall Yoga Pants & Tops Stores:

Alloy Apparel
($) This tall specialty store typically carries yoga options such as leggings and joggers. At times, they also have actual yoga pants in stock. Their activewear bottoms come in a lengthy 35" or 37" inseam, which is going to be about the longest length you're going to find anywhere. Sizes go up to an XXL (equivalent to U.S. size 20) and for some items, up to a 3X (U.S. size 26). Plus, there is also the nice perk of free shipping on orders of $100 or more!
Old Navy ($) You will find a ton of different active options at Old Navy. They have several varieties of tall yoga pants, including slim-leg and wide-leg, that come in 36" inseams. They also have a large collection of other workout bottoms such as leggings, joggers, crops, and capri tights. All would be perfect for yoga! Old Navy carries a huge line of tall exercise tops and tanks as well. I own quite a few active styles from Old Navy that I use often. I highly recommend taking a look here. Their tall sizes go up to an XXL, which is equivalent to a size 20 according to the size guide. Another perk? As part of the Gap brands, you'll get free shipping on $50 orders plus free returns!
Athleta ($$) This is an excellent place to find activewear in tall sizes. Their yoga pants (as well as other styles of workout pants and leggings) can be found in up to a 35" inseam. They also have a wide variety of yoga tops. As part of the Gap brand of companies, Athleta offers free shipping on orders over $50 as well as free returns, making it a simple way to try things out.
Zappos
($$) At Zappos, if you go to the women's pants category, you can filter the different styles by inseam. Most of the active bottoms found here come in a 34" inseam, although, at times, you can find some in a longer length. Brands to look out for are The North Face, Stonewear Designs, and Hard Tail. With Zappos, you can easily try out items because you'll get free shipping and returns!
JCPenney ($) A well-known company with a decent collection of yoga-style slim-fit active pants in 35" inseams. They also have tall size leggings and capris that would be great for yoga. I own a couple of JC Penney leggings and I really like them for my workouts. You can also find some options for active tops and tanks. To find their tall collection, look under the women's menu and then under "Extended Sizes".
New York & Company
($$) You won't find too many yoga styles here, but it's worth a look to see if you like what they do have. At last check, they had two pairs of tall yoga pants in longer lengths.
More tall clothing to discover:

---
---
Like This Page?

Your Comments!