Five Days, Five Pieces, Five Outfits for Tall Women

What if we told you that you could only have a wardrobe that consisted of five pieces? Would you laugh (or cry) at this idea?  Read along as we take you on a five-day wardrobe journey that includes five clothing pieces turned into five outfits for tall women.
Here are the fashion pieces we will be working with:
Basic white tee
Long black skinny jeans
Denim button-up shirt
Blazer
Boots, flats, or heels (pick the footwear that inspires you the most)

Thursday: Working From Home

Today's OOTD needs to be easy, breezy, and comfortable, so our tall girl is going to grab a pair of black jeans, a white tee, and that second cup of coffee while she catches up on emails and listens to her dog snoring at her feet.
Work From Home Tall Outfit Recommendations
Basic White Tee:
TALL COTTON TEE by The Elevated Closet
Tall Size Black Skinny Jeans:
HIGH WAIST SKINNY JEANS by Prissy Duck
Accessorize this tall girl outfit with a scrunchie and pair of sock slippers. Today is about being productive while enjoying all the benefits of working from home.
Friday: In the Office, Then Drinks with Co-Workers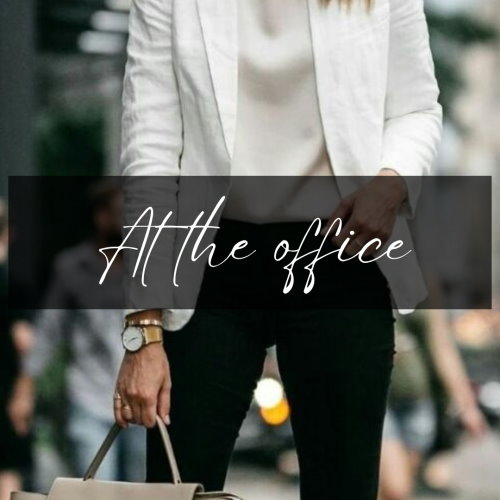 TGIF! Today, it's all about dressing for success while also keeping the outfit fresh for some much-needed in-person social time after work with a few co-workers. Our boss babe is looking sharp with a pair of tall size black jeans, a tucked-in white tee, and an off-white blazer. This monochromatic look from the waist up deflects the casual tone of the tall size jeans and creates a classy, elegant, and confident look for the office. 
At the Office Tall Outfit Recommendations

Basic White Tee:
TALL CREWNECK TEE by Alloy Apparel
Tall Size Black Skinny Jeans:
THE TALLULAH by Midheaven Denim
Blazer:
LIDO SCULPTED WOOL BLAZER by Banana Republic
To pull this outfit all together, consider accessorizing by adding a belt to the tall size black jeans as well as a pair of pearl stud earrings.
Saturday: Day Trip to the Farmers Market

A visit to the farmers market just begs for some fashionable layering! The temperature can fluctuate depending on if you are shopping on the sunny side or in the shade. Our tall girl, being a frequent visitor to her local weekend market, knows this, so she has layered her basic tee with a denim button-up shirt and scarf.
Farmers Market Tall Outfit Recommendations
Denim Button-Up Shirt:
TALL DENIM SHIRT by Tall Moi
Tall Size Black Skinny Jeans:
NO. 1 BLACK by At Last Denim
It's the weekend, so have some fun by adding a little (or big!) pop of color with your accessories. Also, since you will likely be lugging around some tote bags full of fresh produce, a smaller purse that could be worn as a crossover would be ideal.
Sunday: Brunch with Friends

Pass around the mimosas please! Today, our social butterfly is out enjoying some much-needed time with her squad. She's left her hubby at home with the kids and is feeling fabulous! Although her OOTD is comfortable and casual, she's elevated the whole look with an animal print scarf and aviator shades. Mom who? This woman is a tall fashionista who knows how to pull together an outfit using timeless basics from her closet.
Brunch Tall Outfit Recommendations
Basic White Tee:
TALL V-NECK TEE by Alloy Apparel
Tall Size Black Skinny Jeans:
THE TALLULAH by Midheaven Denim
When it comes to accessorizing, this is the moment when adding larger jewelry pieces such as chunky bracelets and dangling earrings are a must. The use of bolder statement pieces, like an animal-print scarf and large leather tote bag will have people turning their heads when you walk into the room.
Monday: Zoom Meetings All Day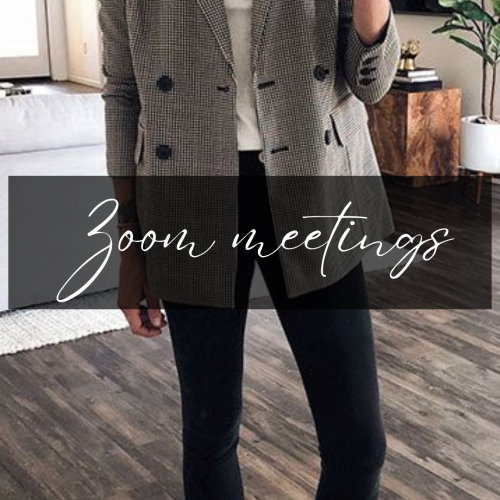 It's Monday…again…and our weekend warrior has zoom meetings all day. She's a bit tired and craves some comfort, so her black jeans with a good amount of stretch, a soft white cotton tee, and her S'well water bottle will be just the ticket to helping her get through the first day of the workweek. But wait, what about all the zoom meetings?! Hello, blazer! It's easy to put on with little to no fuss and just as easy to take off between calls. 
Zoom Meetings Tall Outfit Recommendations
Basic White Tee:
TALL COTTON TEE by The Elevated Closet

Tall Size Black Skinny Jeans:
THE UMA by Midheaven Denim
Blazer:
SOFT-BRUSHED OVERSIZED BLAZER by Old Navy

Since your colleagues will only see you from the waist up, adding a multi-chain necklace and pair of earrings as accessories will really help make it look like you tried. Oh, and may we also suggest you invest in a good dry shampoo and hair clip so you don't have to spend too much time on your hair, allowing you to push that snooze button once or twice before your day begins. ;)
Five Outfits for Tall Women Complete!

Ta da! We did it! Five days, five pieces, five complete outfits for tall women!
When you put together outfits using simple and timeless pieces, you simply can't go wrong. Jaclyn (@jaylopat), a wardrobe stylist, suggests that once you're dressed, set aside 2 minutes of intention to look over your ensemble.  Ask yourself, should I accessorize with jewelry, a handbag, a belt, a scarf? Do I want to roll the cuffs? Would this shirt look better all tucked into my pants, or should I rock a French tuck?* 
Once you've stylized your outfit, take a look at yourself in the mirror and confidently admire how amazing you look and feel!
Do you think you could pull off a five-piece wardrobe challenge? If so, we'd love to hear from you and how it goes!
*If you would like some tips on how to accessorize, check out our blog post, The Tall Women's Guide To Accessories, here.
And, for fashionable footwear inspiration, see our large-size shoe collection here.
This article was written by our friends over at Tall Size.


More tall clothing to discover:

---
---
Like This Page?

Your Comments!