Bella Band Maternity Accessory
The Bella Band is the perfect clothing accessory for tall pregnant women. It expands your maternity wardrobe without the added expense of buying a lot of new outfits.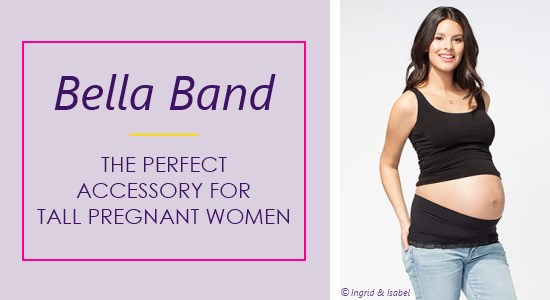 *Support TWR by using the links on this page to shop.  When you purchase, I receive a small commission (at no extra cost to you).  In this way, I can keep bringing you free, helpful, TALL content.  Thank you!*

During the earlier stages of pregnancy, the Bella Band allows tall women to wear their favorite pre-pregnancy jeans while their bellies grow. No need to hassle with shopping for special tall maternity jeans until you absolutely have to. Also, as your shirts start to rise over a larger tummy, these maternity belly bands will keep you covered.
Be sure to get several of them to use throughout your pregnancy. They will prove to be an invaluable part of your maternity wardrobe. You can find them in a variety of colors at Ingrid & Isabel or at any number of maternity shops and department stores. Similar type bands are also sold under different brand names such as the MAGIC Mommy Belly Band
at Zappos, but all have the same coverage benefits.
Shop Maternity Belly Bands:

How does it work?

Similar to a tube top for the belly, this stretchy band of fabric is worn around the waist...under your shirt and over your jeans or pants. It is designed to cover a growing midsection, hide unbuttoned jeans, support the belly, and adapt to the continuously changing pregnant body. The soft, spandex-blend fabric is super comfortable, and because it's seamless, you can fold the band over once or twice without noticeable stitching. Also, without straps, it stays put where you need it most.
How to wear maternity belly bands

Early Pregnancy. Use the band with pre-pregnancy jeans, pants, skirts, and shorts that are unbuttoned or unzipped a little. Fold the band over once to help hold up your pants while providing a smooth belly look. This allows you to wear your non-maternity bottoms further into your pregancy.

Mid-Pregnancy. Continue to wear your bands over pre-pregnancy styles or begin using it with your tall maternity clothes. It works great for this transitional stage. Wear as one layer or folded over unbuttoned, too-tight pre-pregnancy fashions or over too-loose maternity styles. The band flattens excess fabric and smoothes out maternity panels and elastic waistbands for a chic, pregnant look.
Late Pregnancy. Use the band as added reinforcement over low-rise maternity jeans, pants, skirts, and other styles that, with a large belly, often get pushed down around the hips. Wear folded over once or twice to give you some extra support. If you would like more coverage for your mid-section, wear as a single layer over the belly and waistband.
Postpartum & Nursing. Once you've had your new bundle of joy, use the bands to comfortably wear maternity clothing that is now too big or pre-pregnancy styles that can't quite fasten around your waist just yet. For nursing, wear the band as a single layer to give you extra coverage when you lift your shirt up from below.


More tall clothing to discover:
---
---
Like This Page?

Your Comments!