Women's Tall Business Jackets & Blazers
When it comes to professional attire at the workplace, women's tall business jackets are what you need to complete your look. Blazers can either be a separate piece that's matched with a pair of dress pants or it can be part of a coordinating women's suit. Some ladies outerwear jackets, such as trench coats and pea coats, are a perfect dressy style to wear into work on a cold day.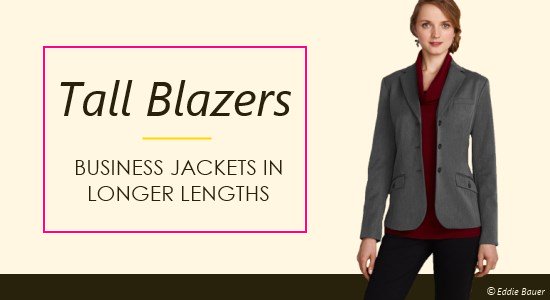 Today's dress jackets have been refined for the modern woman. Tailored silhouettes in trendy color tones, including black, gray, khaki, herringbone, and heathered, offer a classy look on the job. Wool blazers offer the most popular fabric in suit jackets and come in styles such as two-button and three-button. Double-breasted styles are another great professional fashion.
Of course, blazers aren't just for the workplace. Throw one on with a nice pair of jeans for an evening out. It's a classy look that will surely get noticed. Take a look through the stores below and you'll find a number of chic business jacket options in the tall sizes you need.

*Support TWR by using the links on this page to shop.  When you purchase, I receive a small commission (at no extra cost to you).  In this way, I can keep bringing you free, helpful, TALL content.  Thank you!*

Favorite Styles:

Favorite Tall Business Jackets Stores:

Banana Republic ($$) This is a great place to find tall businesswear in general. As for jackets, they have a special blazers category in their tall section, so be sure to go there first. You'll find a lot of contemporary options to choose from! Pair a Banana Republic blazer with any of their dress pants or skirts and you'll have the perfect office attire. Added perk...free shipping on $50 orders plus free returns, making it super easy to try out their products.
Ann Taylor ($$) You'll find a number of quality blazers here. Many of them have matching dress pants that you can buy to make an entire suit outfit. Click on their Tall Jackets section to start your search.
Eddie Bauer ($$) This shop often has at least a couple of options of tall business jackets. Eddie Bauer is known for their quality materials and comfortable wear. You'll also be able to find nice, professional shirts in longer lengths to go along with the blazer if you're needing that as well.
J.Crew ($$) I own several suits from J.Crew's tall collection and have been very pleased with how great they look and how long they have lasted. Their blazers, which are sometimes offered in non-traditional colors, can be paired with any of their tall business pants. J.Crew is a very fashionable and contemporary shop. One to definitely take a look at.
Gap ($$) Here, you can find a good selection of tall business jackets, often in a variety of colors and patterns. Just make your way to their tall section and choose "Outerwear and Blazers" to see what you may like. Free shipping on orders of $50 plus free returns anytime!
New York & Company
($$) This shop typically has a variety of trendy blazers in tall sizes, some of them coming in fun colors to spruce up your office attire. You can find matching pants to go with the blazers, too. NY&C often has sales and promos going on, which will help get you a good deal!
JCPenney ($) Their suit jacket collection is small, but worth checking out to see what they currently have to offer. I like JCPenney's reasonable prices!
Land's End ($$) Offers a few blazers in their tall category at fairly reasonable prices for professional-wear.
Next ($$) Here, you will find a selection of classic blazers at pretty reasonable prices. Next is based in the U.K., but ships worldwide.
More tall clothing to discover:
---
---
Like This Page?

Your Comments!