Tall Women's Trench Coats
Tall women's trench coats are a classic and have been around in the fashion world for a very long time. But no matter the age, these coats remain one of the best types of outerwear you can own.
The trench is a versatile, belted jacket with a streamlined, tailored silhouette typically coming in neutral colors such as khaki and black. Most styles come in a longer knee-length, but trendy cropped versions are available as well. Although traditionally meant to be rain jackets, today's tall ladies trench coats can be worn with just about any outfit, whether rain or shine.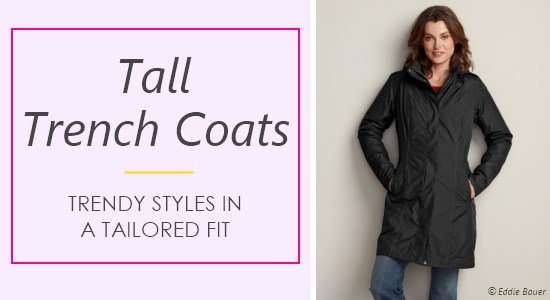 *Support TWR by using the links on this page to shop.  When you purchase, I receive a small commission (at no extra cost to you).  In this way, I can keep bringing you free, helpful, TALL content.  Thank you!*

Wondering the best way to wear a trench coat? The most popular fashion trend is as an everyday overcoat worn both casually and professionally with a pair of jeans or business pants.
For a more informal look, leave the jacket untied and open or only button part of the way. Then, play it cool by turning up the collar a bit. To take it a trendier step further, some celebrities even wear the trench coat as a dress! How's that for original? But, really, no matter how you wear them, tall women's trench coats are a traditional basic that just can't be beat.

Favorite Styles:

Favorite Stores for Tall Women's Trench Coats:

Eddie Bauer
($$) In my opinion, this is the best place to find women's trench coats in the taller sizes you're looking for. Eddie Bauer is well-known for their high-quality outerwear and their trench jackets are no exception. They have a great variety of choices in a range of colors. Some styles are even insulated for more warmth. I own a couple of Eddie Bauer trench coats and I love them! Definitely start here on your search.
Old Navy ($) This well-known shop carries a wide variety of ladies outerwear which includes a few options of trench coats as well as utility jackets (which I think are closely-related to trenches). Old Navy offers all of their tall clothing at very reasonable prices which are often even further discounted with promotions. Added perk...free shipping on $50 orders and free returns!
Gap ($$) Here, you can find a few trench coat options. The number of styles seems to vary by the seasons. What they do have in tall sizes are trendy and fashionable and I'd definitely recommend checking Gap out to see what's in stock. You'll get free shipping on $50 orders and free returns!
Next ($$) If you look at their online tall collection, you'll find several women's trench coats and utility jackets to choose from. Next's prices are fairly reasonable for tall sizes, which I know you will like. This store is based in the U.K. but ships all across the world.
J.Crew ($$) As I'm writing this, I see a couple of trench coats at J.Crew, but not many. This shop would be one to check back every so often to see what they carry. Their jackets are high-quality and great fashion pieces.
More tall clothing to discover:
---
---
Like This Page?

Your Comments!