Bikini Stores

Bikinis are a swimwear choice for anyone, regardless of height. And, the good news is bikini stores can be found both online and offline, and pretty much around every corner. Two-piece bathing suits are especially great for tall women who don't mind showing some skin because you aren't limited to strictly long torso sizes. Simply buy swim tops and swim bottoms that fit, and off you go to catch some rays.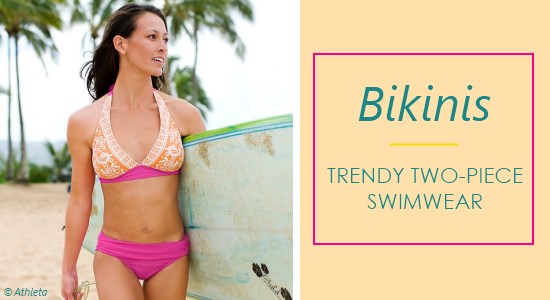 *Support TWR by using the links on this page to shop.  When you purchase, I receive a small commission (at no extra cost to you).  In this way, I can keep bringing you free, helpful, TALL content.  Thank you!*

Whether you want to mix and match bikinis or buy a two-piece swimsuit set, the styles to choose from are seemingly endless. Your options for bikini tops include triangle, halter, demi-top, bandeau, and strapless with underwire, padded, or unlined cups. Your options for bikini bottoms include string, scoop, thong, hipster, boyshorts, and even swim skirts. All of these come in colors and patterns galore and some are reversible, giving you even more for your money.
While I can't list all bikini shops out there, the following are some of my favorites. Enjoy the unending variety!
TALL TIP: Try out bikini swimwear from Zappos
and take advantage of their Free Shipping and Free Returns policy.
Favorite Styles:

Favorite Bikini Stores:

Athleta ($$) Carries activewear pants, casual dresses and skirts, workout tops and tanks, and one piece and tankini swimwear in tall sizes. Also offers a variety of sporty bikini swimwear styles.
Buckle
($$) Offers a large selection of mid-priced and designer jeans and pants in long inseams. For swimwear, they carry a line of designer bikinis.
Gap ($$) Find jeans, pants, tops, dresses, and jackets in tall sizes. Also offers a collection of women's two-piece bathing suits.
JCPenney ($) Carries tall ladies jeans, pants, tops, skirts, jackets, activewear, and sleepwear. Also offer Longitude bathing suits, tall tankinis, and a variety of bikini swimsuits in a range of colors, patterns, and designs.
Old Navy ($) Find affordable jeans and pants as well as inexpensive tops, tees, dresses, jackets, and activewear in tall sizes. For a selection of bikini styles, see the Swim department in Women's apparel.
Swim Outlet ($$) Specialty swim shop offering a wide range of popular swimwear brands. Shop by style for bikini swim tops and bottoms. Also carries a collection of ladies long torso fitness swimsuits as well as the Longitude line of tall bathing suits.
Zappos
($$) Offers women's clothing, swimwear, and shoes in a wide variety of sizes.
More tall clothing to discover:
---
---
Like This Page?

Your Comments!