Casual Women's Shoes in Large Sizes
I recently escaped the unusually nasty cold weather to relax at a lovely beach resort. In my suitcase, I brought along three new pairs of casual flats from the spring / summer collection of Barefoot Tess, a specialty store which exclusively offers women's shoes in large sizes.
(Post update:  Barefoot Tess is now closed, but similar styles can be found at Long Tall Sally.)

*Support TWR by using the links on this page to shop.  When you purchase, I receive a small commission (at no extra cost to you).  In this way, I can keep bringing you free, helpful, TALL content.  Thank you!*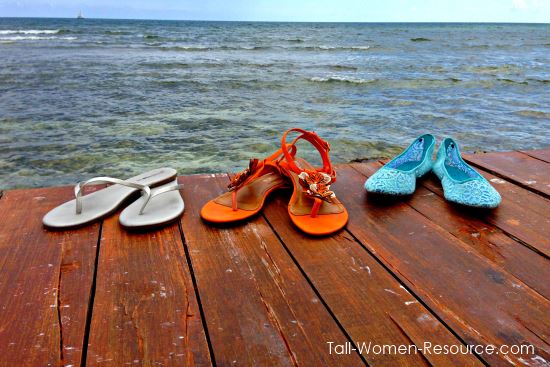 These sandals are sold out.
Find similar styles at Long Tall Sally.
Each year, I enjoy seeing Barefoot Tess' new casual lines because their shoes are always so fresh and trendy and ready to go in warm weather.  This year's styles offer a lot in the way of color and uniqueness.  Of course, you can always go with a simple, basic flip flop such as the Havana Sandal I brought on my vacation, but take a look at the pop of color the other two pairs provide.  Beautiful, yet unique in style.

On that note, here is my review of these three large size women's shoes found at Barefoot Tess.

The B.F.T. by Barefoot Tess 'Holland' Sandal is sold out.
Find similar styles at Long Tall Sally.
I decided to try out the Holland Sandal because I wanted a bright color to wear on my feet.  I'll be honest, I'm not the biggest orange fan in the world, but I liked how the gold accents blended in with the orange in the flowers, adding some character to the shoe as well as a bit of casual sophistication.

At the resort, this ended up being my favorite shoe!  Maybe because it went along with the brightness of my bathing suit, which also had some orange in it (not pictured).  Maybe because it was a great accent to wear with my evening outfit.  Or, maybe because it got the most compliments!

The only issue I had with this sandal is that my feet are fairly narrow and so the straps were a little loose around the ankle.  Other than that, this was a lovely sandal and I'm very happy that I tried it.

The Holland Sandal comes in women's large shoe sizes up to 15 and is also available in wide widths, which is a bonus for some.  You can get it in this attractive orange color (a great accent to any spring / summer wardrobe, I promise!) or in black or natural.  Each color comes with the gold accents blended into the flower embellishments.

The Blowfish 'Demure' Flat is sold out.
Find similar styles at Long Tall Sally.
This one is a versatile beauty.  I was excited to bring these intriguing flats along on my trip because I absolutely loved the crochet lace feature which makes up this shoe.  Not to mention, the awesome color.

I say that the Demure Flat is versatile because I was able to wear it with a number of different outfits, both during the day and at night. Denim shorts, jeans, and a dress...looked great with them all.  I really liked the pretty aqua color paired with my coral summer dress (seems to be a trendy color match these days).

The one thing I would caution is to not wear this shoe on the sand or near water or mud.  My pair got a bit dirty because of the beach and pool and I was afraid it might be a challenge cleaning them up with the lacy material.  The dirt actually came out fairly easily with some stain remover and water, but I still will do my best to wear them on dry areas only.

Overall, I really like this pretty pair of flats and would definitely recommend them.  They also come in black and go up to ladies size 15.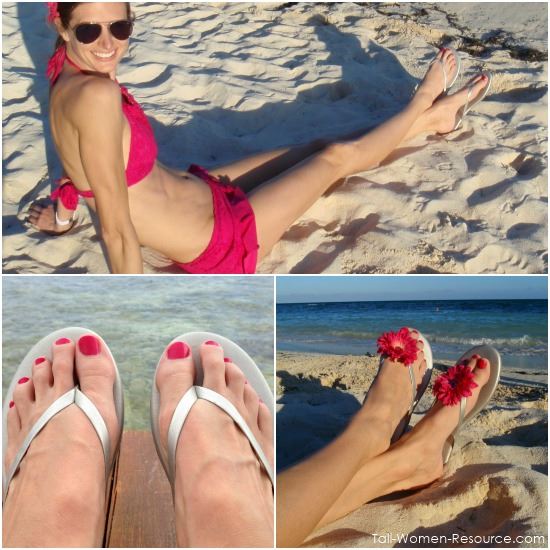 The B.F.T. by Barefoot Tess 'Havana' Sandal is sold out.
Find similar styles at Long Tall Sally.
For the final shoe review, an essential summertime basic...the flip flop.  These Havana Sandals are simple, yet chic, with their thin straps and shiny luster.  Being a sucker for a comfortable shoe, I could wear flip flops all day.  I liked these because they were comfortable but also stylish.

And, do you see what I did in one of the pictures above?  I added on a flowery embellishment in the form of hair clips.  I wanted a little extra pizazz in a color that would match my toe nail polish and bathing suit, and it worked!

Alone or embellished, this is a wonderful pair of elegant thongs that would be a nice addition to your spring or summer ensemble.  The Havana Sandal comes in women's large shoe sizes up to 15 and in six different colors.


Please note: I received these shoes complimentary from Barefoot Tess, but the opinions in this review are my own.


More tall clothing to discover:

---
---
Like This Page?

Your Comments!