For Tall Women Everywhere,
Your Search Ends Here!
Finally, a comprehensive resource dedicated exclusively to tall women. Do you love your long legs, but hate searching endlessly for clothes that cover them? Then, you've come to the right place.
This resource brings together everything tall, just for you!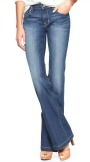 37" Inseam Jeans
Gap
Do any of these sound familiar: What stores sell tall clothing that fits? Are all tall size clothes dull and boring? I can't find jeans in long inseams! What about long pants, tall dresses, long torso swimwear? Even large size shoes are hard to find!
Worry no more. Your answers will be found among these pages. You can, also, find fashion tips specifically for the tall woman to help bring it all together.
So kick back those long, lovely legs of yours and breathe a sigh of relief...your life just got a little easier!
*Current Tall Women Fashion Trends*
Colored Skinny Jeans - The bright-colored clothing trend from the winter season was such a fashion hit that it will continue this spring in the form of skinny jeans. And, can we say...what a fun style! You will find tall skinny jeans and tall jeggings in all sorts of cheerful colors, from pink to purple to turquoise to yellow and plenty of others. Colored skinny denim can be worn in a number of different ways. Pair your skinnies with a top, shoes, and accessories of contrasting bright colors or, instead, tone down the brightness by pairing it with neutrals. Any way you do it, you're sure to look perfectly radiant!


Bermuda Shorts - One of the hot fashion trends popping up on the runways for this spring season are Bermuda shorts. These longer inseam shorts that typically go down to almost the knee are a very flattering look on tall women. We say stick to the more modern, slimmer-cut Bermuda styles to complement your beautiful long legs the best. Wear them with a cute top and a pair of sassy flats or even heels for a fabulous warm weather outfit.


Ready to Shop for Tall Women's Clothing?
Click on any of the categories above to begin. Shop from store to store and from category to category. Shop until your closet is finally filled with clothes that fit. Too busy to search the stores? Shop from some of our favorite styles which you'll find throughout this site, such as tall jeans and long torso swimsuits. No matter how you do it, you'll find that you do indeed have plenty of options. Now, get out there, girl, and strut your stuff!

The Tall Women Resource Blog keeps you up-to-date with what's going on in the world of TALL with tall news, updates, coupons, promotions, tips, and trends. Subscribe to our site here.
The Tall Women Resource Newsletter keeps you informed with site updates, current retailer coupons and promotions, and tall fashion trends. Subscribe to our e-zine here!
Let's get to know each other. Tell us a little about yourself by signing our guestbook.
Find the best deals on tall women's clothes with these tall clothing sales, coupons, specials, and discounts from your favorite stores.
This is the ultimate tall women's clothing store directory. These stores carry plenty of options for clothes for tall women. Check it out!
Create your entire wardrobe by searching this directory of tall women's clothing. Tall size shirts, dresses, pants, coats, sleepwear, and much more. It's clothing for tall women, all in one place!
Find the perfect pair of women's tall jeans including ladies 34" inseam, 35" inseam, 36" inseam, 37" inseam, and 38" to 40" inseam jeans. Also find long length designer denim and custom jeans stores.
Find plenty of options for tall women pants including ladies 34" inseam, 35" inseam, 36" inseam, 37" inseam, and 38" to 40" inseam pants. Also find custom women's tall pants in long inseams.
Stay warm in women's tall coats. Blazers, pea coats, trench coats, cardigans, hoodies, and other ladies tall jackets styles. With longer sleeves and lengths, you'll love these tall women's coats!
Tall women looking for long torso swimwear, check this out! You'll find one-piece bathing suits and other tall swimwear options. Take a dip into this directory and get long torso swimsuits that fit.
Flaunt your height and flatter those curves in tall plus size women's clothing. This is your shopping resource for big and tall women clothing stores and fashionable plus size styles.
If tall maternity clothes are what you're craving, our directory of maternity stores and products will satisfy. Have a stylish nine months of pregnancy in tall fashions that flatter a growing belly.
Embrace your height and be your fabulous self in tall girl clothing that fits. These juniors clothing stores offer affordable, cheap junior clothes in longer length fashions and trendy styles.
Whether you're tall, short, big, or small, custom clothing will get you the perfect fit every time. The stores on this list offer custom jeans, shirts, dresses, suits, scrubs, and more. Customize it!
Find large size ladies shoes including casual, dress, sandals, boots and heels in size 11, size 12, size 13, size 14 and size 15 on up. Large size women's shoes also include wide width shoes.
Here is your key to looking fabulous as a tall woman. Get great advice on what to wear and how to wear it with these tall women's fashion tips.
These tall women celebrities are well-known female actresses, movie stars, singers, models, and athletes. Check out our famous tall women height comparisons to see the stats.
Tall Women Resource hopes to simplify the life of the tall woman by bringing together anything and everything tall, all in one place. Learn more about us here.
Feedback, suggestions, questions, or kudos...we love your input! Contact Tall Women Resource by using the form on this page.
Gain exposure to tall women worldwide by advertising with Tall Women Resource. Find out more here.

Join Us On Facebook:


Popular Tall Pages:


"LOVE this site! Not only does it have the information I seek, it sorts it amazingly! Thank you!!!!"

- Mary Jo, 6'4"
This site is the greatest thing next to chocolate! Thanks to this AMAZING website I have billions of sites that have clothes that fit me! Woo hoo! THANKS!!

- Sophie, 6'3"
"I have spent my life searching for pants that fit - 35 inch inseam - ALL LEGS - This site is awesome!"

- Diane, 5'10"
"Thank you! Thank you! Thank you! It is so hard to find nice clothes that fit properly. This is a great resource! "

- Gineen, 5'11"
"Thanks for putting this together! This place rocks!"

- Kalendra, 6'0"